Military Lending Act Search
The Quandis Military Lending Act Search offers a cost effective, near-real-time, all-in-one verification of Covered Borrowers with the US Department of Defense as defined by the Military Lending Act (MLA).  This is a new requirement for unsecured consumer lines of credit, credit cards, unsecured closed-end loans, and non-purchase-money secured closed-end loans.  If your company needs a near-real-time process to meet your MLA obligations, Quandis has the solution.
How Quandis MLA Search Works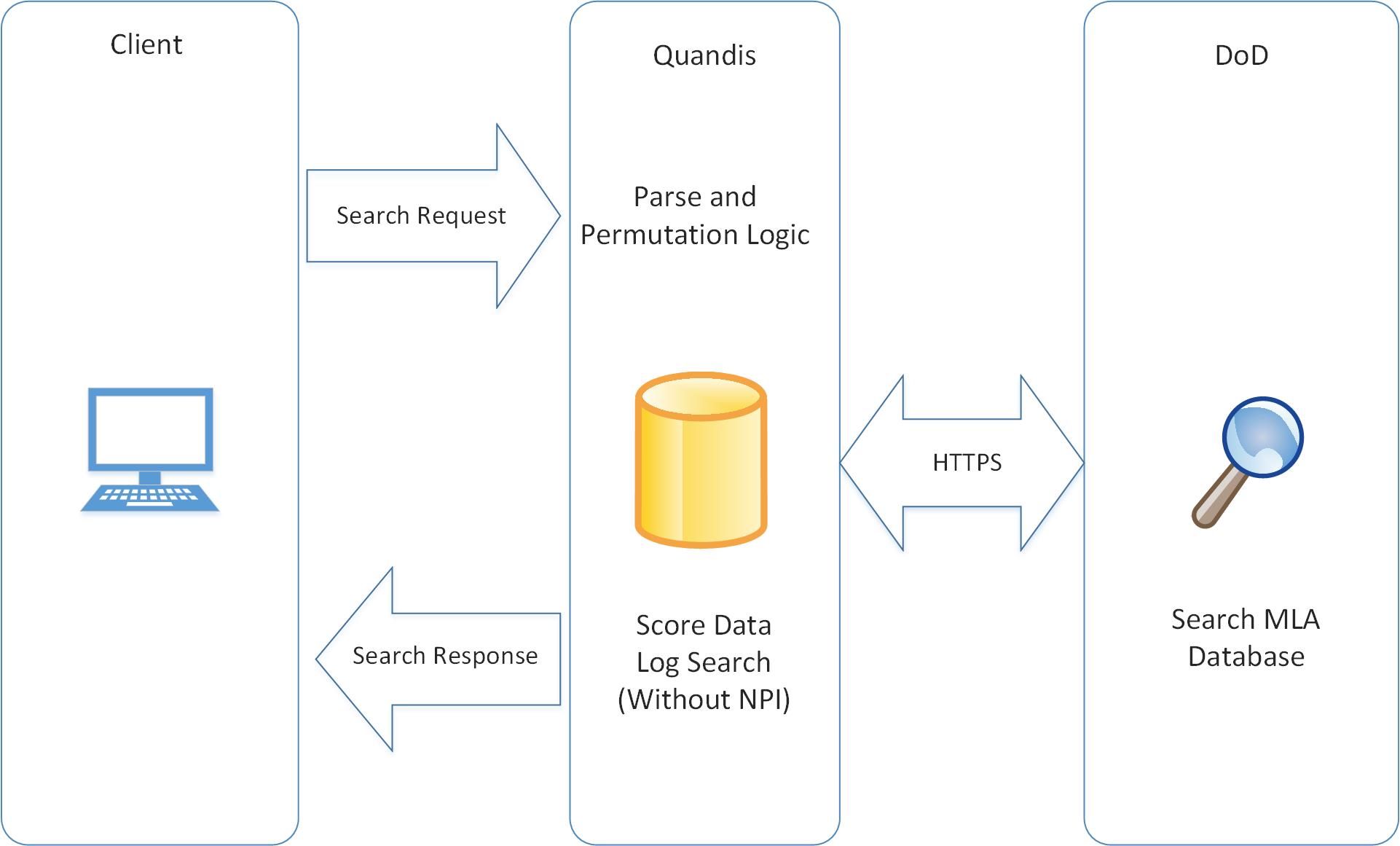 At its simplest, Quandis MLA forwards your request to the DoD, receives the DoD's PDF image, parses out the data and formats the results for your software to consume – typically in less than 3 minutes. This means that your results provide "safe harbor", since the MLA stipulates that the DoD is the source of truth for safe harbor results.
Of course, things are not quite so simple in the real world. Additional value not displayed in the diagram to the right includes:
Distributing request across the country to ensure we stay within DoD's terms of service (requests per machine)
Queuing results in case the DoD is offline, for delivery later
Permutation of names, ensuring that you don't miss Jane Smith-Doe because DoD has her listed as Jane Doe
All kinds of tech goodies, like logging and instrumentation
For more on how this interface works, see the MLA API.
Special Features
Military Search Name Permutations
The DoD Site has very specific requirements and recommendations for performing searches on their site. The last name field MUST match with the covered borrower's name in the DMDC database.
Quandis offers our MLA Search with a feature that addresses individuals with compound, hyphenated or last names (includig suffixes). Quandis will run last name permutations for you as well as normalize and remove any suffix that may be included.
The following examples demonstrate processing a "two-part" name:
Compound last name with space only: Morris McCollough
Permutation results and additional MLA Searches would be performed on: McCollough Morris, McCollough and Morris
Hyphenated name: James-Dean
Permutation Results and additional Military Search would be performed on: Dean-James, James Dean, Dean and James
Suffix values (eg. Jr., IV., etc) will also be removed from the last name field per the SCRA site instructions.
This feature can permutate on more than two name parts and can be configured to select and limit the amount of name parts processed. We can also implement client specific permutation logic if your organization has special requirements.
This permutation feature will demonstrate to your clients you have made every attempt to identify if an individual is a covered borrower. We deliver the time and date stamped official Military Status Certificate that is provided on the Department of Defense website for each individual search. All search result data is provided in an electronic format that is suitable for importing into underwriting and servicing systems.
MLA Tier Comparison
 Basic
Professional
Enterprise
Notes
Monthly Minimum
$49.99
$500
$7,500
Near-real-time Search
$0.20 per search
$0.05 per search after first 2,500 searches
$0.02 per search after first 150,000 searches
Enterprise customers may contact us regarding volume discounts.
Searches per Month
0 – 2500
2500 – 150,000
150,000+
Permutations
x
x
x
Unlimited Volume Licensing
$250,000
License to Run Unlimited Volume in your Data Center.
MLA API Access
x
x
x
For more on how this interface works, see the MLA API.
MLA Dashboard
x
x
x
View Results and Certificate Images, Download to Excel or CSV.
Support
Email – up to 2 days
Email or Phone – same day
Email or Phone – within hour
All response times are measured in business days.
Cost Calculator
Searches per month
Tier
Cost per month
Frequently Asked Questions
What is 'safe harbor'?
Safe harbor, as referenced in the MLA, identifies the sources of data which constitute a legally valid check of covered borrower status. Creditors will have a "safe harbor" if they use one of two methods:
Using DoD's (DMDC) Database
Using a credit report provided by a national consumer reporting agency
Quandis' MLA Search results come directly from the DMDC database, just like the credit reporting agencies results do.
If you use a source of data other than the ones listed above, you will be legally liable for any discrepancies between your results and the DoD's data.
Does Quandis MLA Search provide 'safe harbor'?
Yes. Quandis MLA Search performs a real-time search against the DMDC website, which is the "source of truth" for safe harbor results. The key difference between Quandis MLA and a manual search of the DMDC website is Quandis MLA Search results are returned in XML or JSON format, instead of PDF.  We simply parse the PDF returned by DMDC, translating the results into XML or JSON.
Does Quandis have direct access to the DMDC database?
Yes. DMDC provides a website that provides a real-time search against their own database. Quandis MLA Search uses the DMDC website to perform real-time searches, and translates the PDF results into XML or JSON for easy consumption by underwriting systems.
How can I prove my Quandis MLA Search results are 'safe harbor'?
DMDC provides a "certificate number" that is unique to each search, and can be used to audit the results. Quandis MLA Search extracts this certificate number from the PDF, and includes it in the XML or JSON results. This certificate number provides proof that the search was done against a "safe harbor" data source.
If my applicant is a spouse of a military active duty member, how do I determine if the spouse is covered?
The DMDC database contains military service members, as well as their dependents -- in short, all covered borrowers. If your applicant is named John Doe, and is married to (or otherwise a dependent of) Jane Doe (an active duty service member), you don't need to search for Jane. If he's covered by the MLA, John Doe will be listed in the DMDC database.
With that said, make sure your names match! John Smith Doe is not the same as John Doe. Quandis' name permutation logic will automate such checks for you.
Does Quandis store any Non-Public Personal Information used in searches?
No. Social Security Number and Date of Birth are required to perform a MLA Search. Quandis does not log or store any other non-public personal information (NPI) by default. The information is encrypted end-to-end through Quandis' infrastructure, and passed to the DMDC website when performing a search. Once the search has been performed, the NPI is discarded.
If the DMDC website is down, can I still get results?
No. The Quandis MLA Search is performed in real-time against the DMDC website. If the DMDC website is offline, Quandis MLA Search can be configured to either:
Return an error stating that the DMDC website is down, and you should try again later, or
Queue your request for processing when the DMDC website functionality is restored
Note that if you wish us to queue your request for future processing, we will need to store the SSN - encrypted, of course.
How does Quandis MLA Search differ from the credit bureau MLA status?
The source of data for both Quandis MLA Search and the credit bureaus is the same - the DMDC database. Note that the credit bureaus do not have a copy of the DMDC database; they use the DMDC API via the DMDC website to retrieve the information. In short, the credit bureaus get their MLA results from the same website Quandis does.
The Quandis MLA Search results are always performed in real time. When you get credit bureau results, the MLA results may be up to 30 days old.
What is a dependent?
A Dependent is defined as follows:
A spouse;
A child who:

Is under age 21;
Is under age 23 and is a full-time student and is (or was at the time of the service member's death) dependent on the member for over one-half of the child's support; or
An unmarried person who:

Is placed in the legal custody of the service member by court order for at least 12 consecutive months; or
Has either (i) not reached age 21 or (ii) has not reached age 23 and is a full-time student; or (iii) is incapable of self-support because of mental or physical incapacity that occurred while the person was considered a dependent of the service member; and
Is dependent on the service member for over one-half of the person's support; and
Resides with the service member unless separated by the necessity of military service or to receive institutional care as a result of disability or incapacity; and
Is not otherwise a dependent under any of the other statutory definitions.
Which loans are covered by this rule?
Unsecured consumer lines of credit
Credit cards
Unsecured closed-end loans
Non-purchase-money secured closed-end loans
What are the loan requirements?
Annual Percentage Rate: 36% Limitation
Removal of Mandatory Arbitration Clause
Removal of Borrowers Waiver of the Right to Legal Recourse
Creditors are Prohibited from using the Title of a Vehicle as Security for the Obligation
Creditors must allow the borrower to prepay the loan and can't charge a penalty or fee for prepaying all or part of the loan.
How do I determine who is a 'covered borrower'?
When you pass Quandis your borrower name and SSN, we will perform a real time search against the DMDC website, returning XML or JSON indicating whether the borrower is a covered borrower.
Other safe harbor options include:
Using a credit report provided by a national consumer reporting agency, or a reseller of that credit report, that complies with the Fair Credit Reporting Act (FRCA). Use of alternative or regional credit reporting agencies would not provide a safe harbor.
What is the timing of the determination?
The creditor may rely on the information obtained from either method if the creditor obtains it within 30 days prior to the time the consumer initiates the transaction or applies for credit. Quandis' MLA Search results are performed in real time against the DMDC database, so they're always fresh - never stale. Thus, the 30 day 'clock' starts upon receipt of the results from Quandis.
What are the penalties and remedies?
Consumers may sue creditors for violations of the new rule, and regulators can also enforce certain penalties if the rules are violated. If a creditor is found to have violated the new rules, the following applies:
The loan is void from the inception of the contract
If an arbitration agreement was required, it is unenforceable
Consumers may recover actual damages of at least $500 for each violation, as well as punitive damages, equitable or declaratory relief, and any other relief provided by law
Consumers may recover the costs of the action and their reasonable attorney's fees
Consumers may pursue any other rights or remedies under any other applicable law may be used, including consequential or punitive damages
If the creditor knowingly violates the rules, it is a misdemeanor.
What is the turn-time for product data using the API?
Our turn-time ranges from 60 - 180 seconds with an average of 120 seconds. These metrics assume the DMDC website is on-line and functional.